Mechanical Engineering Ceramics
Mechanical Engineering Ceramics
FRIALIT-DEGUSSIT Oxide Ceramics
Mechanical engineering based on technical ceramics offers all kinds of new possibilities in all areas of industry and research to achieve performance levels that traditional materials cannot match.
Our Kyocera DEGUSSIT technical ceramics are distinguished from other materials by their many qualities: resistance to heat, cryogenics, corrosion and wear, extreme hardness, electrical insulation properties, etc.
Our objective is to create high-performance solutions in technical ceramics to significantly increase the life and reliability of mechanical components, thus reducing maintenance time in automated processes.
The standard manufacturing time for ceramic powders (isostatic pressing process + green machining) is typically 12-14 weeks.
The dimensional tolerances of technical ceramics after manufacture are ±3%. If the application requires more precision, we can machine the technical ceramics using our diamond tooling: we have several 5-axis ultrasonic CNC machines, surface grinders, cylindrical grinders, honing machines, centreless, polishing machines, etc.
We also offer to carry out assemblies by gluing, brazing, shrinking...
If your need is urgent, we can machine ceramics directly from sintered blanks in stock (bars, plates, etc.) with a lead time reduced to 4 weeks.
Please consult our standard product range or contact us for your custom orders for specific applications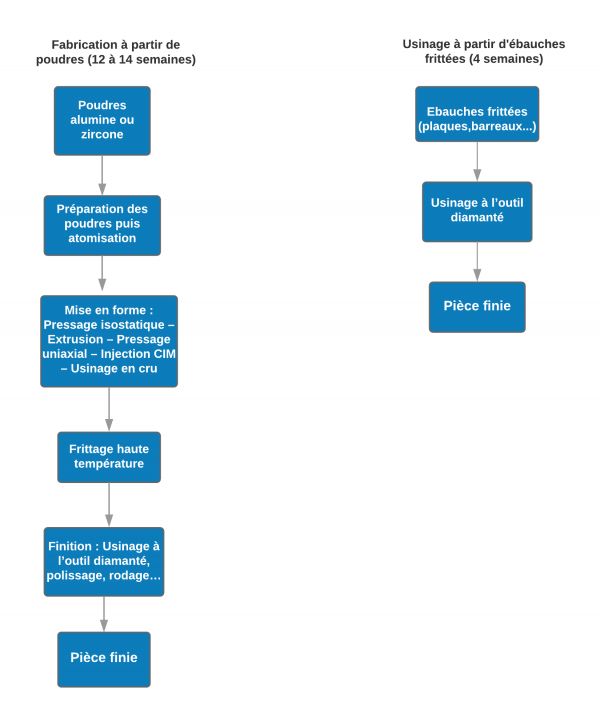 Typical mechanical engineering applications based on technical ceramics:
Food industry
Pharmaceutical industry
Automotive industry
Chemical industry
Paper industry
Nuclear industry
R&D
Aerospace
Telecom
Product gallery